Free PRO packs for loyalty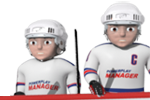 Hello fellow managers,
On Sunday many of you will reach 51 points of experience. This means that you will be entitled to a free PRO pack for 7 days. If you already have a PRO pack, it will be prolonged by 7 days. So this is a win win situation for those who play the game regularly and it is a thank you for your loyalty. I hope you will enjoy the extra features. You will get a mail informing you about this.
The SMS payments have been implemented in Romania. There are still a few countries where we need people to test (Argentina, Canada, Estonia, and USA).
Works are continuing on international cups and we still believe we can have them ready by the start of the next season. The national teams will be a little bit delayed but it is possible that they will be ready at some point during next season. With international cups we will also implement tournaments and credit tournaments. This will make it much easier for you to organize tournaments. These are our top priorities right now.
That is all for now. I will keep you posted on the latest developments as usual.
Have a nice day
Vlady
מחבר:

vlady
-
מתרגם:

vlady
שתף בפייסבוק
שתף בטוויטר
שתף במיי-ספייס