A special Christmas present from PPM team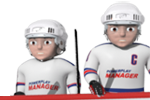 Dear friends,
we have prepared a special Christmas present for you this year. For the next 10 days, three new snowflakes will appear on the pages of the game every day. Your task is to collect all these snowflakes and if you do, you will get a free PRO pack for 7 days on December 30. If you play both sports, you will get the PRO pack in both of them.
If you cannot find a snowflake on the day when it appears, don't worry, it will stay there until the end of the competition (December 30) or until you collect it. To collect a snowflake, just click on it. You can see the number of snowflakes you collected in a special message in your account.
We hope you have fun with this competition over the course of the holidays. It is a small present from the guys here at PPM office to our managers. The snowflakes may be hidden on any page within PPM. If you only play one sport, don't worry. The snowflakes that appear in hockey, also appear in soccer on the same page. Keep your eyes peeled!
One more piece of news regarding the U20 and U17 national teams in soccer. After requests from the current national team managers, we have decided, that players under the of 20 (including) will be allowed to remain in the senior national team for the next season. However, the senior NT managers will not be allowed to add any more under-age players from next season. It will be up to senior NT managers if they let the under-age players go to junior teams or if they will rather keep them.
That's all, have fun!
מחבר:

vlady
-
מתרגם:

vlady
שתף בפייסבוק
שתף בטוויטר
שתף במיי-ספייס