New season to be scheduled on Sunday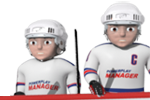 Hi Friends,
Many of you have been dissatisfied with the fact that the league games were scheduled on Monday, the day of the first game and you had too little time to prepare. Well, this season will be different. We have moved part of the seasonal update to Sunday. The promotions, relegations and game schedule will be done on Sunday morning.
Then the game will be unavailable for a few hours because we have decided to create Irish leagues. We need to move all Irish teams into their own brand new leagues and re-arrange the teams in the Other World league because of this. This may take some time. Of course the promotions, relegation and game schedule for Other World and Ireland can only be done after this and these teams will only see their schedule on the Sunday afternoon.
Ireland will also get its own national team. We have approached manager
Emerald
and asked him to be the first national team general manager because it is impossible to hold elections in this country now. Needless to say that he accepted this challenge and he will take the position at the helm of his national team. Ireland will, of course, start in Division II next season.
We have implemented a couple of new features this week. A PRO version of the Detailed stats page, which shows the number of days that a player has been injured and the career longevity in the selected season. The only drawback is, that we cannot retrieve data about career longevity from the first 3 seasons, so you can only check this from Season 4 onward.
The other new feature is the Season-long All-Star Team. This is calculated simply by the number of nominations for the All-Star Team during the season.
Finally I would like to announce that we are looking for one or two Russian translators. If you are interested, your native language is Russian and you have a good knowledge of English, please contact me at
vladimir.danis@powerplaymanager.com
.
That's all, have a nice weekend!
מחבר:

vlady
-
מתרגם:

vlady
שתף בפייסבוק
שתף בטוויטר
שתף במיי-ספייס