More info about the salaries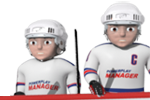 Hello friends,

As you may have noticed, the salaries of all players have been recalculated according to the new formula. We consider this formula to be the final version and no further changes will be made.

This change comes just a few weeks after the one, which caused a massive growth of expenses on the player salaries. The aim of this first modification was to reduce the maximum salary that could be achieved by elite players in the prime of their career. The cap was too high and would have been impossible to handle for the clubs. This has been achieved but a small error in the formula caused that the current salaries have grown multiple times and this was really hard especially for the new managers. Of course we had to take action again.

The change made on Tuesday solves this problem. Currently the expenses on player salaries are even lower than before, but soon they will start growing faster and with them the expenses. Still, the cap is set lower than it was before.

We have also brought back the 25% extra salary for the foreign players in the team. Because the salaries are smaller now, it shouldn't be a problem to afford foreign players. We have also taken into account the public opinion after we have taken out this 25% extra and we decided to satisfy those who want to build on their own players or players from their own country.


Of course this new formula was tested and analyzed and we are finally satisfied with the result. We believe that the so-called day-trading phenomenon feared by some people on the forums is well covered because we are countering this on several levels. For example there is the fee for having over 40 players on the team, but also the impossibility to sell the players within 50 days of buying them and most of all there are the high transfer fees.
As far as staff member salaries are concerned, no changes have been made and we don't plan any.
Finally, I would like to turn your attention to this thread on the forum. I think you will find it useful:
מחבר:

vlady
-
מתרגם:

vlady
שתף בפייסבוק
שתף בטוויטר
שתף במיי-ספייס