Season 12 starts now!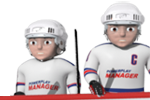 Dear friends,
season 12 is here and with it new challenges for you and your team. For us the first day of the season has been very hectic because we had to fix some things which we messed up ourselves.
As we had announced earlier in season 11, there were several changes in economy. However, some of these changes were not applied to the live server and therefore we had to make some adjustments today.
I am talking about sponsorship offers and OTR reduction. In case a team is promoted it should get a bonus to their sponsorship deal. This bonus was applied today to all promoted teams. Likewise the relegated teams' sponsorhip deals were reduced today to match the intended reduction.
There were also some teams whose sponsors should have been reduced due to throwing of key games related to promotion and relegation of their team. This was also fixed today so those who should have received smaller offers will receive the correct amount of money.
The same applies to media sponsors and skybox contracts.
The OTR of promoted teams was also updated. Instead of a 15% reduction, the OTR was reduced by 20%.
To sum up, everything is as intended right now and there are no damaged teams and nobody benefited from this error.
We know you are waiting anxiously for the new hockey live broadcast to be launched. We are working on it all the time and we are happy that we can present you a little preview of the broadcast so far. There is still a lot of work to be done, but we are moving forward.
Have a nice day!
מחבר:

vlady
-
מתרגם:

vlady
שתף בפייסבוק
שתף בטוויטר
שתף במיי-ספייס