New game features implemented and looking for translators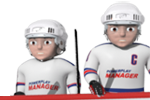 Hi friends,
We are glad that you like our new live broadcast. The live attracts over 1,500 managers online during the games. We hope this will keep on going like this. We are still adding new texts and soon there will be new images too. However, the biggest problem is with the translations, we are still looking for new translators. If you would like to translate into you language please contact us at support@powerplaymanager.com. We are looking forward to hearing from you. Don't forget to state the language you would like to translate into.

We will implement some new features in the next few days, which will change the gameplay substantially. We have already implemented the injuries which will greatly influence the managing of the team. It is good that another facility will gain a role in the game. So if you want to have less injuries do not forget to build up your medical facility. Teams with more players will have a greater chance of an injury. Do not forget to set up your scratched players who will replace your injured players.
The last thing to be implemented is the negotiations with sponsors and TV companies at the end of the season. I would like to note that the sponsor deals up until now have been set by us manually according to the economy trends but now they will be generated automatically. The main criteria for a good sponsorship are: league level, final rank after the playoff and the level of human resources and economic department. Caution! A number of teams have not been developing this facility at all and so also the contract from the sponsor will be smaller. You have appr. 30 game days to build it up, so you can change this. The sponsor money will grow overall because you will have to support higher salaries from the players and especially the staff members.
Have a nice day
Ivan alias tuttle
מחבר:

tuttle
-
מתרגם:

vlady
שתף בפייסבוק
שתף בטוויטר
שתף במיי-ספייס