Some words from Gioel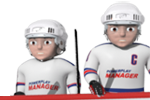 Hello friends,
this message is unusually from me (Gioel). Let me introduce myself. I am 23 years old, I come from Slovakia and I am the main programmer of this project. I am doing this game for you, so you can contact me any time. I would like to ask you for patience regarding the bugs. As you know, nothing is perfect and there were and always will be some problems and drawbacks. I will, of course, try 100% to eliminate these problems and drawbacks, so I hope there will always be less of them. In case there are some problems please take them as the results of the gross development stage.


What has been done during the last few days:
- added: we added a search filter to the market page
- added: we extended the stats in the TOP section by the TOP staff members
- added: the last activity of the team can be seen in the team profile
- added: stats of other leagues are available in the league stats page
- added: country statistics to the 'online' page
- fixed: bug in the game summary which gave the impression that both goalies played in the game
- fixed: serious bug on the market where the players that were not sold returned to wrong teams
- fixed: conflicts arising from the usage of public account and a normal team
- fixed: only names up to 20 characters displayed in the practice page
- fixed: flags in the league statistics shown the country of the teams not of the players


What are we planning for the next few days:
- fix: we had a game where the overtime didn't end after a goal was scored
- fix: we had a game where two goals in one second were scored
- fix: withdrawal of the fourth line does not work correctly

I would like to congratulate manager andreytol, who made a perfect start and his team holds first place in the best teams ranking and it still didn't taste defeat.

Tip for today:
If you want to increase the practice improvement of players, don't forget to build up training and regeneration facilities. Also keep in mind that practice improvement depends on the quality of the practiced attribute.
Regards

Gioel
מחבר:

Gioel
-
מתרגם:

Gioel
שתף בפייסבוק
שתף בטוויטר
שתף במיי-ספייס