The third promo video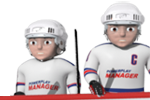 Dear friends,
We are happy to present to you the third and final TV commercial that was shot in August and is being broadcasted in Czech Republic and Slovakia on Sport 1 and Sport 2 channels. Again, we want to ask you to share this video with your friends and on social networks. This way you can help promote PowerPlay Manager over the internet as well.
The link to share: http://www.youtube.com/watch?v=_LbR9tf8Cu0&hd=1
As we had announced, we are gradually going to move some credit features into the PRO pack. This first one of these is the option to watch the live broadcast or replay of any game. As of today the PRO pack owners can watch any game within that sport. But we also have good news for non-PRO users who can now watch every game of their own team whether it be home or away.
The new season in hockey has started today. The small adjustments in the game engine which we mentioned last week will take effect as of today. One of them was the reduction of number of goals in the extremely one-sided games (the ones with over 25-30 goal difference) and the other one was increased influence of game importance setting on goalie performance.
We plan some improvements regarding hockey masks to make them more visible. For instance they will be displayed in live broadcast before the opening faceoff and goalies with masks will have a special icon next to their name on the Players page.
Have a nice day!
מחבר:

vlady
-
מתרגם:

vlady
שתף בפייסבוק
שתף בטוויטר
שתף במיי-ספייס