And the winner is...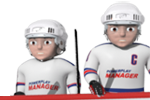 Hello folks,
This is what many of you have been waiting for. The selection committee comprising of
tuttle
,
maxo
,
Gioel
,
DebiK
,
Mike22
and myself have decided which countries will organize this season's PPM Ice Hockey World Championships. Before I get to the results, I have to say that all the bids were of high quality and the organizing committees have made it very difficult for us to pick the winner. We have developed a special scoring system to determine the winner. It took two rounds of voting to determine the host nation of the top division tournament. Here are the results:
First round:
1. Czech Republic - 190 points
2. Hungary - 185 points
3. Slovakia - 175 points
4. Slovenia - 50 points
Second round:
1. Czech Republic - 304 points
2. Hungary - 296 points
1. Denmark - 600 points
1. Bosnia and Herzegovina - 390 points
2. Estonia - 210 points
Congratulations to the winners and a big thanks to everyone involved. You have all done a great job and even if you didn't win, you can be proud of yourselves. Good luck next season.
For those who are interested, please read this article with the brief description of all the bids:
I would also like to say that we have created a page where you can see the newly registered managers. You can find it here:
Finally I would like to thank the following managers for updating the name databases for their countries -
diabolik37
(France),
CaMaRo
(Latvia) and
Keystoned
(Sweden)
Have a nice day!
מחבר:

vlady
-
מתרגם:

vlady
שתף בפייסבוק
שתף בטוויטר
שתף במיי-ספייס