Merry Christmas and a Happy New Year!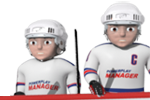 Dear friends,
We at PPM office would like to wish you all a Merry Christmas and a Happy New Year! May this Christmas be bright and cheerful and may the New Year begin on a prosperous note! Enjoy these holidays, take a rest from your work or school, spend quality time with your family and relatives and eat whatever you want, but most importantly, don't forget to look after your teams even during the holidays :). After all, this is a game that never sleeps.
We would like thank you for your loyalty and support throughout the whole year. Our special thanks goes to all the PRO pack owners without whom, this project would not survive.
See you in 2011!
מחבר:

vlady
-
מתרגם:

vlady
שתף בפייסבוק
שתף בטוויטר
שתף במיי-ספייס