A special tournament for supporters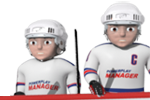 Dear friends,
in addition to the three tournaments announced on Friday (read the previous news), we have opened a special tournament with even better prizes. This tournament is again in cooperation with our partner FansMania, which sells officially licensed NHL merchandise. You can get your hands on original NHL jerseys of your favorite teams or your favorite players for free.
The FansMania.eu Supporters Cup is dedicated to our supporters and registration is free for anyone who buys at least 500 credits from October 28, 2011. This tournament is worth almost twice as much in prize pool when compared to any of the other FansMania tournaments. If you get into the last 16, you are guaranteed a discount. Even if you finish 32nd, you still get 50 credits for your efforts. The tournament does not clash with the previously announce FansMania tournaments so you can double your chances by playing in two tournaments and potentially win in both.
Here is the rundown of prizes available in FansMania.eu Supporters Cup:
Rank 1: Discount of €150 in Fansmania shop
Rank 2: Discount of €125 in Fansmania shop
Rank 3: Discount of €100 in Fansmania shop
Rank 4: Discount of €75 in Fansmania shop
Rank 5-8: Discount of €30 in Fansmania shop
Rank 9-16: Discount of €15 in Fansmania shop
Rank 17-32: 50 credits
The tournament starts on May 12, 2012 so you have plenty of time to buy those credits and be entitled to take part in the tournament. However, if you want to avoid any clashes in dates with other tournaments that you sign up for, you should book your place as soon as you can.
Just a reminder about the three previously announced tournaments:
Due to a mistake when setting up the FansMania.eu Open Cup, it had to be closed and a new tournament with correct settings was opened. If you were signed up for this tournament, please sign up again for this new one.
Good luck and have a nice day!
מחבר:

vlady
-
מתרגם:

vlady
שתף בפייסבוק
שתף בטוויטר
שתף במיי-ספייס