Upcoming engine improvements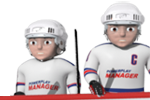 Dear friends,
at the beginning of this season, we have introduced a bunch of improvements in the hockey game engine as well as some new tactical options. Even though we were happy with the effect of these changes, we knew that we had not yet reached the end of our quest. Many of you welcomed the new tactical options, while others were getting more irritated by the upsets and unexpected results. Therefore we have made it our goal, to make further improvements for season 8 that will make you, the managers, even more influential when it comes to the results of your team.
The changes made for this season do not bring you more tactical options, but some of the tactical options will become more influential on the outcome of the game. Here follows a list of the most imporant changes to be applied from day 1 of season 8:
new feature for the game summary - offensive zone time comparison (offensive zone time has a major influence on shot count)

increased influence of difference between the in-game strength of the two teams on offensive zone time (in-game strength of the team is influenced by offensive and defensive strength, tactics, ice time distribution, importance, home ice advantage if applicable and press centers if applicable)
offensive zone time will have influence on the calculation of penalties (if a team spends too much time in its own zone, it is more likely to take a penalty, but the technique:aggressiveness ratio remains the dominant part of this calculation)

importance will have no influence on overtime (since energy does not take overtime into account, there is no reason to save energy)
improved calculation of shot count on power plays (this will give you more control over your special teams)

increased influence of the quality of the passer on the outcome of the shot (quality of the passer will be influenced by the passer's overall ability and his passing ability)
increased the influence of penalty killing line on the outcome of the power play shots of the opposing team

untraditional power play and penalty killing line compositions will be penalized (for example if you use 3 defensemen and 2 fowards on a powerplay or if you have 3 forwards on the penalty kill; on the other hand 4 forwards and 1 defenseman on a PP will not be penalized)
game summary will show ice time distribution in each period
What does all this mean for you? New feature in game summary will help you analyze games with more precision. Offensive zone time comparison is much more precise than the actual shot count and therefore a better reference point. You will also be able to see the time on ice distribution, which will give you yet another valuable piece of information about the game. The changes we made indirectly increase the influence of game importance. Many of you were not happy with the effect of game importance so we hope you will appreciate this. Passing will become a little more important attribute, but you don't need to spend too much time practicing it for wingers. The most important thing is probably the fact that chances of major upsets will be reduced. That is not to say they will not happen. Every league day there are over 20,000 games played and therefore upsets are inevitable. Just for comparison, in NHL it would take over 16 years to reach than number!
In addition, we will create a new PRO feature. Statistics of power play and shorthanded goals. You will be able to find these on all player stat pages. We will probably remove goals per game and assists per game columns to make room for these new stats.
Finally, I would like to inform you that the frequency of academy and staff pulls has been changed. You can now pull new youngsters and applicants every week. Applicants will come every Tuesday and juniors every Thursday. Of course the number of applicants and juniors per one pull will be halved. This change has been announced in one of the previous news.
Good luck in the final stages of season 7!
PS: Don't forget that from June 1, the new prices come into effect. You have only 4 days left to buy credits for the current price.
מחבר:

vlady
-
מתרגם:

vlady
שתף בפייסבוק
שתף בטוויטר
שתף במיי-ספייס