Početak 40te sezone u hokeju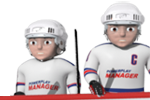 Zdravo svima,
da li vjerujete da se približavamo 40oj sezoni u hokeju? Zaista nevjerovatno. Još više je nevjerovatna činjenica da su među nama aktivni menadžeri koji su sa nama još od početka i prve sezone, a to je veoma ozbiljan kontinuitet igranja i posvećenosti. To cijenimo zaista mnogo.
Ukoliko ste , sa druge strane, novi u našoj igri, postarajte se da ne propuštite ponude sponzora za predstojeću sezonu koja počinje śutra. Takođe možete ispratiti Svjetsko prvenstvo i navijati za svoj tim.
Kao i obično imaćemo regrupisanje liga u određenim državama kako bi se odstranili neaktivni timovi iz najniža dva nivo liga . Regrupisanje liga će se desiti u sljedećim državama:
Belgija, Danska, Estonija i Švajcarska
Ukoliko potpišete sporazum sa sponzorima uz bonuse, a desi se da budete prebačeni u neku drugu ligu tokom procesa regrupisanja, molimo vas da ne budete zabrinuti. Imaćete opciju da ponovo pregovarate o sponzorstvu sa vašim sponzorima tokom prva 2 dana nove sezone kako biste napravili prave odluke. Provjerite vaše protivnike prije odluke o sponzorstvu.
Srećno u novoj sezoni!
Autor:

vlady
-
Prevodilac:

Chiraq
Podeijeli na Facebook
Podeijeli na Twitter
Podeijeli na MySpace