Welcome to the hockey account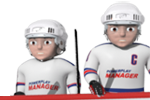 Hi friends
Welcome to the hockey account of the PowerPlay Manager. We are very happy that after more than one and half year of development, we can allow the first managers to play the game. The fact is that this is not even the PRE Beta (which will follow soon and there will be total restart of the teams before it), but many of you will already have fun to play it.
Until today only the choosen testers and captains could play the game. We decided to open the game for all the support team members today. So welcome and enjoy. Please do not forget that many parts of the game are not ready yet and will be finished during PRE Beta and Beta testing and also there are some bugs which must be fixed. For all interested people we will open the testing menu soon. It will be located in the left main menu and there you will be able to join our english or slovak speaking public gmail testing conference. So all bugs and problems will be discussed there. We are looking forward to meet you there!
And one more information at the end: This hockey news section is normally available in the Community menu in the hockey account. In the near future we will programm it that hockey news will appear as the first page in the hockey account in the first daily login. In all the other daily logins you will see the menu 'Team -> Team news' as starting page.

thank you

Ivan alias tuttle
Autor:

tuttle

-
Prevodilac:

vlady
Podeijeli na Facebook
Podeijeli na Twitter
Podeijeli na MySpace