What's in store for the next season?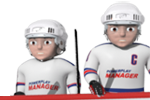 Hi friends,
We hope you like the new color scheme of the hockey game. Today I will tell you about the progress of improvements on the game engine and tactical options. Unfortunately we will need some more time to test most of these improvements before we can implement them. However, there are some which will be implemented this Friday. The rest will have to wait until season 7. If we manage it, we could add them halfway through season 6, but we want to hear your opinion about this. Please leave a message below whether you would like the changes from season 7 or after 19 game days of season 6.
New features coming on Friday:
changing goalies based on save percentage and/or goals against
change of faceoff calculations to reflect the faceoff relevant attributes more realistically and increasing the influence of faceoffs on shot count
new feature in game summary - offensive zone time by period
new way of displaying game importance in game summary (by period)
change of shootout system to correspond with IIHF rules
Features currently in testing phase or under development:
option to change importance based on the score
improvement of calculation of penalties
power play and penalty kill tactics
reduction of influence of counter-tactics
special influences of each of the 6 styles of play
option to set approximate ice time for each line
As of today, you can check out a brand new page called
League news
. This page will keep you up-to-date about everything important that goes on in your league.
We had a couple of bugs in the election system. Some candidacies were deleted because of a bug and some users were unable to post their candidacies. These issues have been solved. We apologize if your candidacy has been deleted. Please post it again.

Good news for users living in different time zones. You can now choose your own time zone in the
account settings
.
There are 5 days left in the Month of Referrals. Here is the provisional top 10. Remember that you get 1 credit for each verified referral once you reach 10 referrals. The top 3 will also receive PPM souvenirs.
| | | |
| --- | --- | --- |
| 1 | Holypaladin | 496 |
| 2 | JosipDumancic | 364 |
| 3 | Zikij | 235 |
| 4 | eldorado | 229 |
| 5 | jackass9 | 165 |
| 6 | marceloflm | 154 |
| 7 | acko83 | 142 |
| 8 | Jersyy | 87 |
| 9 | lucka17 | 79 |
| 10 | pepo487 | 67 |
Finally, we would like to ask you to vote for us in a Serbian competition called Web Fest 2010. We are aspiring to win the award for the best website in the Sport category. To vote, click on the link below, then click "Glasaj" and follow the instructions on screen.

Thank you!
Autor:

vlady
-
Prevodilac:

vlady
Podeijeli na Facebook
Podeijeli na Twitter
Podeijeli na MySpace