Potpuno nova PRO zona i odličan bonus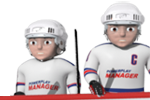 Pozdrav prijatelji,
ostajete li bez kredita? Nema boljeg trenutka za kupovinu nego sada. Iskoristite prednost sjajnog 50% bonusa i pogledajte našu potpuno novu PRO Zonu.
Da, tako je, redizajnirali smo PRO Zonu tako da se lakše možete snaći, razumjeti a mislimo i da bolje izgleda. Ali to nije jedina promjena. U ponudi imamo nove pakete kredita skrojene za svakog od vas pojedinačno. Takođe smo povećali količinu kredita koje možete kupiti putem paysafecard-a tako da od sada ovaj način plaćanja ima istu vrijednost kao i drugi načini plaćanja.
Ali to još uvijek nije sve! Količina kredita koju dobijate za €135.99 je povećana sa 1400 na 1500 zauvijek. To je sjajno, zar ne?
50% bonus vrijedi samo do 22 maja 20.00 časova zato požurite ako to ne želite propuštiti!
Autor:

vlady
-
Prevodilac:

Chiraq
Podeijeli na Facebook
Podeijeli na Twitter
Podeijeli na MySpace