Update on handball and other features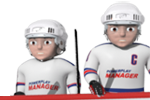 Dear friends,
I'm sure many of you have been anticipating to hear more about the development of handball. One of the most frequest questions that we get is about the release date of this next sport. We are happy that so many of you are excited about handball and that you are keen to finally start playing.
I can tell you that the development of handball is now picking up. At the moment we have one programmer working on it full time and we will soon assign another one to help the development. I can tell you now that the players in handball will have 8 attributes and that you will be able to train specialists for defense, specialists for offense as well as all-round players who can play well at both ends. We have also prepared a basic sketch for tactical options that will be available. As the development continues, we will bring more and more news from behind the curtain, so stay tuned.
There is still some unfinished business in soccer that we have to deal with before we can assign more programmers to handball. I am talking about the new substitutions page and also the drag & drop setting of the line-up. The substitutions are already in testing phase and they also require a facelift in terms of design. The line-up page needs a bit more work but it's also moving forward. Both will be launched simultaneously. There will also be a simplified version for mobile phones which do not support drag & drop.
The world championships in hockey start on August 25. The bidding and voting process to host these tournaments are now completely in the hands of national team managers. We are glad that there were valid bids for 6 of the 9 tournaments to take place, but we hope for more in the future when you will have more time to prepare the bids. The dealine will be the same every season (day 83 of the season) and whoever wants to earn 100 credits for a successful bid, should contact the general manager of the national team. This season the championships will be held in the following countries:
Top division senior: Slovakia
Div I senior: Canada (no bids, selected by PPM)
Div II senior: Bulgaria (no bids, selected by PPM)
Top division U20: Slovakia
Div I U20: United Kingdom
Div II U20: Norway (no bids, selected by PPM)
Top division U18: Romania
Div I U18: Croatia
Div II U18: Ireland
Finally, we would like to warn you not to trust any applications or websites that ask you to enter your PowerPlay Manager username and password. These applications or websites are only designed to steal your login data and whatever advantage they claim to give you is false. They often claim you can get free credits or game money which is ridiculous. Also be careful about websites which look exactly like PPM, but they have a different address. These are also just clones designed to steal your login data. If you encounter any such attempts at stealing your password, please report it immediately.
Have a nice day!
Autor:

vlady
-
Prevodilac:

vlady
Podeijeli na Facebook
Podeijeli na Twitter
Podeijeli na MySpace