Regrutovanje dolazi uskoro!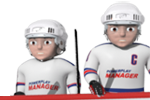 Dragi drugovi,
kao što znate,ovo je prva sezona kada će regrutovanje biti implementirano u igri. Svaka liga će imati svoju bazu podataka iz koje će ih timovi birati. Ovo bi trebalo da donese novu dozu zabave u igri. Prva baza igrača koji će biti spemni za regrutovanje pojaviće se 20'og dana sezone( april 5) što je subota. Regrutovanje će se održati 7 dana kasnije( 12 april) što je takođe subota. Imaćete nedelju dana da skautirate što više igrača.
Svakog dana možete odabrati igrače za skautiranje. Rezultati skautiranja će doći narednog dana. Ako imate PRO paket imate mogućnost da odabere igrače za skautiranje za cijelu neđelju. Igrači sa PRO paketom takođe mogu naručiti igrače prema svojim željama. U slučaju da ne možete prisustvovati regrutovanju sistem će automatski izabrati igrača koji je najvisočiji na listi a koji je takođe slobodan. Ako ste zaboravili da skautirate igrača za neki dan to ćete moći da uradite retroaktivno uz malu nadoknadu u kreditima. Retroaktivan skauting će vam dati odmah rezultate bez čekanja.
Dobra vijest je da igrači sa regrutovanja iz zadnje nedelje, u sportskoj akademiji će doći prvog dana naredne sezone. Oni će se u vašem timu pojaviti kao 15'ci uz duzinu karijere koja je bila u fazi regrutovanja.
Sve u vezi regrutovanja možete pročitati u vodiču. Regrutovanje će biti obavljeno na stranici regrutovanje kad igrači bufu vidljivi
Takođe želimo da vas obavijestimo da smo modifikovali uticaj važnosti utakmice na posjetu na ligaškim mečevima. Na osnovu vaših komentara odlučili smo da smanjimo naglo opadnje u posjeti radi manje frustracije kada bi se to desilo. Uvjeren sam da će mnogi od vas cijeniti ovu promjenu. Međutim mi i dalje vjerujemo da zadnje promjene u vezi važnosti utakmice bile neopohodne da bi igra ostala fer za svakog i da bi se iskorijenilo namještanje mečeva.
Ugodan dan!
Autor:

vlady
-
Prevodilac:
BirdisBack
Podeijeli na Facebook
Podeijeli na Twitter
Podeijeli na MySpace