World Championship hosts announced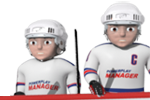 Hello friends,
We would like to announce the hosts of this season's PPM Ice Hockey World Championships. The selection committee have cast their votes and the decision has been made. You can read brief overview of all the bids here. We have received 3 bids in the Top Division and 1 bid in Division I. The committee consisted of tuttle, maxo, Gioel, DebiK, Mike22, maTTko, Vrato, Frusciante and myself. Before I announce the results, we would like to thank all who have contributed to the bids. We appreciate your efforts even if your bid was not the winning one.
And here the results:
First round:
1. Slovenia - 390 points
2. Slovakia - 326 points
3. Czech Republic - 184 points
Second round:
1. Slovenia - 500 points
2. Slovakia - 400 points
Division I

1. Poland - 900 points
Division II
No bids. Austria has been chosen as the highest ranked country.
Congratulations to Slovenia and Poland. May the tournaments be a success!
Autor:

vlady
-
Prevodilac:

vlady
Podeijeli na Facebook
Podeijeli na Twitter
Podeijeli na MySpace