Specijalna ponuda - 40% ekstra kredita besplatno!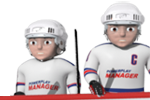 Dragi prijatelji,
uživate li ovoga ljeta? Mi imamo još jedan razlog za uzbuđenje. 40% bonusa na svaku kupovinu do 6. avgusta, u 20:00 sati. Da, to je 40% ekstra kredita za bilo koji način plaćanja i bilo koju količinu kredita. Nije bitno da li kupujete kredite putem SMS, kreditne kartice, transfer preko banke ili na bilo koji drugi način. Dobijate 40% svaki put i ovaj bonus možete koristiti koliko god puta želite..
E to je ponuda kojoj je zaista teško odoljeti. Ne oklijevajte, jer imate još samo malo vremena da je iskoristite.
Autor:

vlady
-
Prevodilac:

Chiraq
Podeijeli na Facebook
Podeijeli na Twitter
Podeijeli na MySpace