Srećna nova 2016!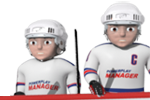 Zdravo drugari,
2015 je već prošla a mi jedva da smo i primijetili. Želimo da vam se zahvalimo na velikoj podršci i lojalnosti tokom protekle godinei radujemo se saradnji u ovoj. Takođe želimo vam srećnu i berićetnu novu 2016 godinu, neka vam sve ide po zacrtanom planu i neka vam se sve želje ostvare. Prosto rečeno želimo vam sve najljepše!
Isto kao što je 2015-ta brzo prošla tako se bliži kraju i naš Božićni izazov. Izazov se završava 6-og januara. A to je tako blizu! Pa ukoliko nijeste na nekoj planini i radujete se sniježnim čarolijama skijanja i bez internet konekcije, odigrajte koji instant izazov i sakupite kolačiće i ostvarite mnogobrojne nagrade.
Vjerovatno nije više potrebno objašnjavati kako sve to funkcioniše, kao što se može i viđeti vi dragi menadžeri ste pokazali istrajnbost i upornost.
Samo nastavite tako i neka je sa srećom, a mi ćemo vam držati palčeve!
Autor:

Riksha
-
Prevodilac:

Chiraq
Podeijeli na Facebook
Podeijeli na Twitter
Podeijeli na MySpace