Two credit features moved to PRO pack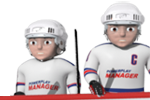 Dear managers,
as we had promised a few weeks ago, we are continuing in moving some of the credit features into the PRO pack. Today we have enabled the PRO pack owners to search opponents with pucks or pennants for free. There are, of course, 2 types of this search.
Search suitable opponents to enlarge world collection - this feature enables collectors to easily find a team with a puck or a pennant from a specific league level. This feature is now free for PRO pack users. The price for other users remains the same - 2 credits.
Search suitable opponents to enlarge collector's gallery - this feature enables you to find 3 random opponents whose puck or pennant you don't have yet. The feature becomes part of the PRO pack. The price for other users remains the same - 3 credits.
These changes are part of our ongoing effort to increase the value and appeal of the PRO pack while retaining the price.
Recently we have implemented video advertising in match broadcasts in soccer. This new part of the broadcast was met with much criticsim. Why do we advertise our own game to those who already play it, you were asking. Well, the main reason is, that it was a preparation for something else. Soon we plan to launch a fan shop with official PowerPlay Mangager merchandise. We plan to promote the shop also in the match broadcast, both in hockey and soccer. This advertising space will also be used for other purposes, but we will minimize the amount of ads shown to the PRO users. Therefore the ads will only be displayed once during a broadcast (during intermission) for PRO pack owners and some ads will not be shown to PRO users at all. Also, if possible, the ads shown to PRO pack owners will be shorter. Non-PRO users will see the ads also at the beginning of each broadcast.
The promo video for Fan Shop is already done. You can see it below:
Please note that the items in the video are not available yet, but will be when the Fan Shop is launched.
That's all, have a nice day!
Autor:

vlady
-
Prevodilac:

vlady
Podeijeli na Facebook
Podeijeli na Twitter
Podeijeli na MySpace