Support teams and translators wanted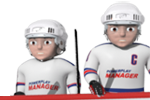 Hello friends,
Today some of you may have noticed that the prize money came a little early. This problem forced us to close the access to the game for a while but it is not a major problem. The prize money was taken back and it will be awarded tomorrow. Some people may have spent part or all of that money but since the statistics and rankings will not change too much after the last game day it shouldn't cause any trouble to these managers. They should get roughly the same amount of prize money, only a day later. We apologize for the troubles.
On a completely different note PowerPlay Manager is looking for a few very capable people who could join the support teams. Please only apply if you are serious about this. We need people who are really enthusiastic about this game. Do not apply if you don't think you have enough free time or if you think you cannot be a long term member of the team. The main countries where we need help are: Slovakia, USA, Canada, Norway, Belarus, Croatia, Turkey, Romania, Netherlands, Austria and Estonia.
If you don't think you can be a support team member but you still want to help you can apply to become a translator. We need translators into Norwegian, Danish, Estonian, Spanish (Chile), Croatian, Icelandic, Macedonian, Portuguese (Brazil), Turkish, Hebrew, Arabic and Chinese.
Please contact me if you are interested in any of these positions. Don't forget to include your contact data (Full name, PPM username, e-mail, MSN, skype, ICQ, age) and a few sentences about yourself (why you want to help and why we should pick you).
Have a nice day

Vlady
Autor:

vlady
-
Prevodilac:

vlady
Podeijeli na Facebook
Podeijeli na Twitter
Podeijeli na MySpace