Collect pucks and win!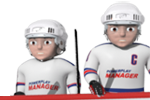 Hi friends,
yesterday was a big day for PPM. New engine was implemented, first players reached free agent status and a new credit feature was launched. It is called team puck. If you are familiar with our soccer game, then you know that this is the equivalent of a club pennant in soccer. We have brought this feature to hockey due to the success that it had in soccer.
The teams exchange pucks before every game. If you create a puck, you can choose whether you want to give this puck to every opponent or whether you want to give it only to those who also have their own puck. It is another way of presenting and promoting your club. You can create an unlimited number of pucks.
The pucks can be collected and you can even win a special award and 50 credits if you collect a puck from every league level in every country. It is called World collection and in total it makes 142 pucks to be collected. You can only collect pucks for world collection if you have created your own puck.
Every puck you collect, even if it doesn't count for the world collection, you can find in your puck gallery. If you have collected a puck that is precious to you for some reason, you may put this puck to the gallery of most precious pucks for 1 credit. There you can type also the reason why this puck is so precious.
Finally a reminder that the referral campaign is still going on. You can get up to 10 credits for one referral, provided the referral is active in both sports. Read more details here.
Have a nice day!
Autor:

vlady
-
Prevodilac:

vlady
Podeijeli na Facebook
Podeijeli na Twitter
Podeijeli na MySpace