PLUS paket opcije sada i besplatno!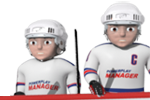 Pozdrav prijatelji,
kao što smo i obećali u prethodnim vijestima, neke opcije PLUS paketa su odsad potpuno besplatne za sve korisnike. Neke od tih opcija su vezane uz draft pa sam siguran da ćete time biti zadovoljni. Odlučili smo se odreći dijela svojih prihoda kako biste vi više uživali u igri. Te dvije opcije o kojima govorim su mogućnosti sortiranja igrača na draftu s obzirom na potencijal i s obzirom na dugovječnost karijere. Ove dvije opcije će omogućiti korisnicima PRO paketa da i oni na draftu odaberu kvalitetne igrače čak i ako ne mogu biti prisutni online na igri u vrijeme drafta.Vjerujemo da je ovo prava odluka za budućnost igre.
Međutim, to nije sve. Još tri opcije su sada dostupne potpuno besplatno:
opcija dodavanja zastavica/pakova u omiljene

opcija pretrage odgovarajućih protivnika radi povećanja svjetske kolekcije
opcija pretrage odgovarajućih protivnika radi povećanja sakupljačeve galerije

Ni to nije sve. Poslušali smo vaše prijedloge i od sada je istraživanje igrača dostupnih za draft puno lakše. Sada možete dodati igrače na popis za istraživanje ili ih automatski istražiti bez neprestanog osvježvanja stranice drafta. To bi trebalo uveliko da smanji vrijeme potrebno za istraživanje i dodavanje igrača za draft na popis za istraživanje.
Fudbalske vijesti
U fudbalu nam dolazi 15. sezona. Kao i obično, regrupisat ćemo zadnja dva nivoa liga kako bismo uklonili ekipe bez menadžera i povećali kompetitivnost. Regrupisat ćemo lige u svim zemljama osim sledećih:
Kina, Estonija, Njemačka, Italija, Japan, Latvijia, Crna Gora, Rusija, Škotska, Slovačka.
Ako se dogodi da vas premjestimo u neku drugu ligu, a odabrali ste sponzorski ugovor s bonusima, ne brinite. Tokom prva 2 dana nove sezone imaćete mogućnost promjene sponzorskog ugovora na standardni ugovor ili promijeniti ciljanu poziciju.
Košarkaške vijesti

I u košarci su prihvaćeni i sprovedeni neki vaši prijedlozi. Mogućnost kopiranja postave iz prethodne utakmice je malo izmijenjena. Dosad, korištenjem ove mogućnosti su se postavke zamjena vraćale svaki put na početne postavke. To više nije slučaj i sada će i postavke zamjena biti iste kao i u prethodnoj utakmici. To znači da sada nećete morati ponovno svaki put slagati postavke zamjena ispočetka nakon svakog kopiranja postave iz prethodne utakmice.
Šta možete očekivati?

U bližoj budućnosti ćemo napraviti još priličan broj promjena i poboljšanja. Uskoro ćemo opet napraviti neke promjene koje će opet rezultirati time da neke opcije PLUS paketa postanu potpuno besplatne. Naravno, i mnogo ostalih vaših prijedloga smo prihvatili i namjeravamo ih uvesti. Ostanite uz nas i pratite vijesti iz PPM-a!
Prijatan dan!
Autor:

vlady
-
Prevodilac:

Chiraq
Podeijeli na Facebook
Podeijeli na Twitter
Podeijeli na MySpace