Sitter feature launched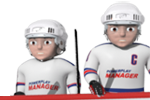 Dear friends,
the vacation season is in full flow now and many of you go to locations without internet connection. We understand that you don't want to leave your teams unattended and therefore we have developed a feature that will help you with that. It is called account sitter or simply sitter. Before you go off for your well-deserved time off, you can set up another manager in the game as your sitter. This person must be someone you trust because a sitter can do all the things that you can do in your account and could potentially also damage your team. A sitter logs into your account by typing your username and his/her own password.
The sitter is a PRO feature and, by default, the office of a sitter lasts 30 days. Therefore both you and your sitter must have at least 30 days left on the PRO pack in either sport. You can only have 1 sitter at the same time and you can dismiss your sitter at any time before the 30-day period expires. On the other hand, you can be a sitter to any number of managers who choose you. The sitter has the option to resign from his/her position. You can name a new sitter either in the account settings or in the profile of the desired manager. Your sitter will receive a PPM message about this. We hope this new feature will help you, but be very careful of who you choose.
As you know, the Great Referral Campaign started at the beginning of this month. The competition is still in early days and it's still not too late to catch up with the leaders. Join the competition by inviting new managers and have a chance to win Nintendo Wii and PPM merchandise. Read more on the Propagation page. The ranking of the top 50 managers can also be found there. You can use the filter to see the ranking in your country or sort the rankings by the number of verified referrals.
That's all, have a nice day!
Autor:

vlady
-
Prevodilac:

vlady
Podeijeli na Facebook
Podeijeli na Twitter
Podeijeli na MySpace