Unexpected troubles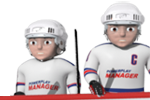 Hi friends,
Truly unexpected troubles occurred today through no fault of our own. Due to serious technical problems on our hockey database server we had to go back to this morning's backup from 1.30 am CET. This means that every operation which you did since this time in your hockey team will be annulled and you will have to do them again. The night calculation had to be recalculated as well and that means that you may see some differences. Injuries are part of this so any injuries from this morning have been annulled and new ones may appear.
The market deadlines have all been moved by 24 hours so your players will return to the market and they will get sold again. All the credits that have been spent on credit features will have to be returned manually by us. This may take some time. As a compensation we will prolong the validity of the PRO pack by one day to every PRO user.
These problems came as a shock to us as well as to you and they are in no way related to the recent migration. We do apologize for any inconvenience. Fortunately we now have two separate databases. If this had happened before the migration, we would have lost a lot more data.
Now for other news. I would like to remind you that the deadline for sending bids to host the hockey world championships is getting closer. You have time until Sunday, January 31. It is also my duty to report that the Slovakian name database has been updated by
Ness
.
I hope you have a nice day despite these bad news.
Autor:

vlady
-
Prevodilac:

vlady
Podeijeli na Facebook
Podeijeli na Twitter
Podeijeli na MySpace