Božićni izazov i super nagrade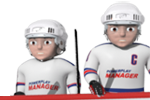 Pozdrav narode,
evo ga! Veliki Božićni izazov počinje. Da li možete da prikupte dovoljno medenjaka za svih 9 nagrada?
Kako pristupiti tome? Sve što treba da uradite je da igrate instant izazove. Za svaki instant izazov dobićete jedan medenjak. Kada prikupite dovoljan broj medenjaka, možete izabrati jednu od nagrada. Moguće je da nećete uspeti sve nagrade da osvojite, pa budite sigurni da napravite pravi odabir nagrada. Najbolji način da se što više medenjaka prikupi jeste da se prijavite svaki dan i da igrate maksimalan broj instant izazova. Možete sakupljati i razmijeniti medenjake sve do 6. januara u 16.00 časova.
Pored nagrade za medenjake, naravno možete se takmičiti za top poziciju u dnevnim i neđeljnim instant izazovima.
Ali to nije sve! Mi smo vam obećali još jedno iznenađenje, a to je da nevjerovatnih 50% bonusa na kupovinu kredita i to od sada pa sve do 28. decembra u 20.00 časova.
Ovo su naši božićni pokloni za vas. Nadamo se da vam se sviđaju i želimo svima vama ugodan odmor uz puno mira i ljubavi!
Autor:

vlady
-
Prevodilac:

Chiraq
Podeijeli na Facebook
Podeijeli na Twitter
Podeijeli na MySpace