Sakupljajte pakove i osvojite PRO paket!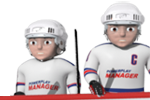 Zdravo drugari,

IIHF svjetsko prvenstvo počinje danas i mi smo vam pripremili specijalno takmičenje koje će trajati sve do finalnog dana turnira.

Svaki dan (počevši od danas) novi pak sa zastavom jedne od zemalja koje sudjeluju pojavit se na jednoj od stranica hokeja. Posljednji pak će se pojaviti 18. maja. Imat ćete vremena da pokupite sve pakove do 19. maja. Ukoliko ih sve pronađete i pokupite, osvojićete besplatan PRO paket u hokeju u trajanju od 7 dana. Kako biste pokupili pak, dovoljno je kliknuti na njega. Možete viđeti broj pakova koje ste skupili u posebnoj poruci na vašem računu.

Možete se takođe prijaviti našoj anketi prognoza za svjetsko prvenstvo i to besplatno! Krediti za ove prognoze su donirani od strane lubosko-a.

To je sve, uživajte ​​u svjetskom prvenstvu!
Autor:

vlady

-
Prevodilac:
birdman007
Podeijeli na Facebook
Podeijeli na Twitter
Podeijeli na MySpace