New PRO features and other news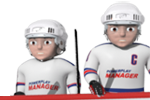 Hello friends,
There is a lot to report since last week. We have launched several new features and made some more small changes.
Two new PRO features have been implemented. First is the option to view the player profile in the more old fashioned way without the graphic bars for qualities. In this version you can see the decimal values of the attributes without the need to hover your mouse over the attribute. You can switch over to this display for any player you are viewing by clicking the PRO switch in the top right hand corner of the player card. If you want to set this view as default, you can do so in the PRO pack settings.
Another thing you can set there, is to display your assistant instead of the mascots. This change applies to the left hand column where the graphic elements are usually displayed. Regarding the assistants, we have simplified the upload custom assistant feature. You can now upload a picture of any dimensions provided you stay under 100kB. The picture will crop itself into the required dimensions.
We have also changed the display of team profile based on your suggestions. We have moved the team strengh to the top of the page.
Today we have implemented forum notifications. Any time someone replies to your post, you will get a notification. If this new feature is bothering you, you can turn it off in the account settings.
Good news also for those who play PPM on cellphones. We have created a special login page and we have reduced the amount of data needed to browser our pages by removing the background image for phones and tablets.
In hockey, we have reorganized statistical categories in players stats to make it more in line with the international standards. The points per game, goals per game and assists per game averages were moved to the right where they are now displayed with accuracy to two decimal spots instead of one. Also when you view the all-time statistics for your players, we have added the power play and shorthanded goals to this view. However, these stats are only recorded from season 8.
Finally, we would like to congratulate user Lada Togliatty on being the first to complete the world collection of pucks. We decided to give him a special reward of 300 credits for this achievement.
Have a nice weekend!
Autor:

vlady
-
Prevodilac:

vlady
Podeijeli na Facebook
Podeijeli na Twitter
Podeijeli na MySpace