Second peek at new design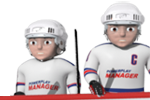 Dear friends,
First of all, I would like to welcome the newest member of our PPM office Lukas a.k.a. portugalec. He joined us earlier this month and he is here to help us with theoretical development and marketing. We are happy to have him on our team.
As we had announced earlier, we are working hard on the complete redesign of PowerPlay Manager website. We are proud to present the new look of the player's profile in hockey. Right now we are in the final stages of creating all the elements of hockey design. After that, we will move on to football and PPM account and handball design will come after that. At the same time we are also working on the new design of the welcome pages which will be launched simultaneously with the rest of the new website design.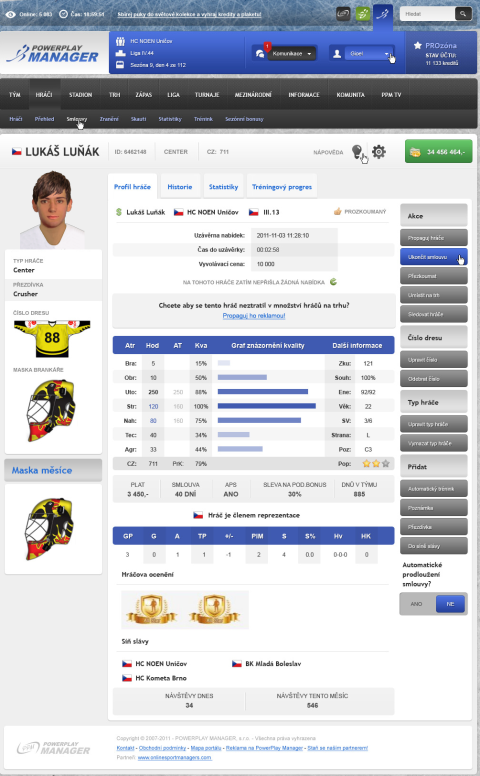 With the launch of new design, we also plan a big marketing campaign to bring in new managers to the game. In order to make this campaign more effective and more global, we are looking for people who would be willing to join our marketing team and contribute to the growth of the game. If you are interested, please contact our Chief Marketing Officer maTTko at martin.hornik@powerplaymanager.com. You must have enough free time, you must be at least 17 years of age and you must be able to communicate in English. Previous experience with marketing is an advantage.
A new rule was introduced today:
It is forbidden to promote other websites or products in any way without the approval of the administrators of the game.
Some users have used various channels recently to promote some websites without our knowledge. This will no longer be tolerated. However, we are always open to some sort of a cooperation or partnership. If you wish to cooperate with PowerPlay Manager, please contact support@powerplaymanager.com.
News from hockey
As of this season, there are no Overall Team Rating points for a regulation loss in Champions' League and Cup Winners' Cup.
Want an original NHL jersey?
If you buy at least 500 credits (or have bought since October 28, 2011), you can join the FansMania.eu Supporters Cup for free and play for a chance to get your favorite NHL jersey.
You can also sign up for one of the other three FansMania tournaments in addition to the one mentioned above. You can sign up for both the FansMania.eu Supporters Cup and one of the tournaments below to double your chances of winning.
Have a nice day!
Autor:

vlady
-
Prevodilac:

vlady
Podeijeli na Facebook
Podeijeli na Twitter
Podeijeli na MySpace