More news about national teams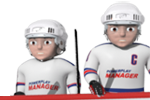 Hi all,
Due to numerous questions arising from the announcement of the national teams we have decided to bring you some more news. I mentioned that the top division will be played by the top 16 nations according to the number of hockey teams. The deadline for determining who gets in and who will play in the lower divisions will be at midnight of December 13. If your country is around the borderline it is time to get those referrals going and get inside the top 16 (or top 28 to get to into Division I). The division system will be very much like the system in real life international hockey. There will be Top Division with 16 teams, then Division I with 12 teams and the remaining 7 teams will play in Division II. Every year two last teams will be relegated to a lower division and they will be replaced by the two best teams from that division. You can follow the ranking of countries according to the number of hockey teams here:
As you can see the number of managers signing up for candidacy is quite big. We have decided to make some changes to the election system as of next season. All I can tell now is that the criteria for candidacy will be stricter.
You may have noticed that in recent weeks our server has been slow at times (especially after the live games). We have spent hours optimizing the functioning of the server, which helped improve the situation, but there are still problems when the traffic is at its peak. In order to avoid potential problems that would have impact on all users of the game we have decided to implement a system that may momentarily keep non-PRO users out of the game when the server load exceeds certain point. In such case a special screen will appear where you can click to return to your last visited page. This screen will not appear to PRO users who will have access to the game even when the server load is too high. The fact is that the game is free and 9 out of 10 managers have not donated any money to help us. You have to realize that the game has grown in numbers and sometimes the load on the server is just too much. In any case, we do not think that situations such as these will occur frequently.

Have a nice day!
Autor:

vlady

-
Prevodilac:

vlady

Podeijeli na Facebook
Podeijeli na Twitter
Podeijeli na MySpace