Elections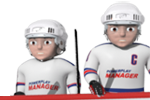 Hi friends,

You have been waiting for this for a long time and here it is. I am glad to announce that as of Monday, it will be possible to sign up for candidacy for the position of general manager of national team. Anyone who has manager experience at least 51 can sign up as a candidate in any country but it is only possible to pick one country. So even if you are from a country that doesn't have a national team you can still manage a national team if the users in that country will vote for you. The nominees are closed on Sunday, which is also the last day of this season. The elections will begin on the first day of next season and the voting will be closed on Sunday. The minimum experience needed to vote is 11. You can only vote for general manager of your own national team.
The national team GM will be able to choose up to 50 players that will be available for call-up during the season. Before every game and before the World Championships the GM has to pick a maximum of 28 players and build the lineup from this selection. The owners of these players will then know that their players will not be available for a club game on that day. During the season the national teams will play friendly games with the low importance setting on Saturdays. On the last 9 days of the season there will be World Championships. The top 16 nations according to the number of hockey teams will play in the top division. The GM can pick his assistant as well as the home arena for the national team and schedule friendlies.
There are several benefits of having players in the national team. The players gain more experience, they improve faster when they are with the national team, it is mentioned in their profile and their club gets a share of the revenue from the game.
Don't forget to support your country by painting the ice with the special national paintings as mentioned in the previous news.
Have a nice day!
Autor:

vlady
-
Prevodilac:

vlady
Podeijeli na Facebook
Podeijeli na Twitter
Podeijeli na MySpace