New player faces implemented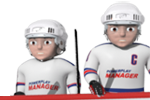 Dear friends,
It's been a while since the last update on development progress, but that doesn't mean we were idle. The biggest news is that we have implemented new faces of players on PPM a couple of weeks ago. You can now find black, Asian and Japanese faces in the game. The faces are assigned according to nationalities of players. We have set the percentages to roughly coincide with the demographics of every given country. But this is not the end. Our graphic artist ThomasHK is already working on Arab and Indian faces which we will implement later.
We have added an option to filter out your former players in your team's player statistics. This was a suggestion from the community which we decided to implement so now you can view only current players of your team in your statistics if you want.
In hockey we have divided the statistics of national team players according to age categories. These stats were shown in one category in the detailed stats of each player until recently. Now you can see them divided. We are also working on a page that will show player statistics for every national team just like you have in your own club.
The new graphic live broadcast has reached final stages of development and we are very close to launching it. We hope we can launch it this month if everything goes well.
In soccer we fixed the option to upload a tournament logo. If you have uploaded a logo for your tournament and it is not showing, please try again.
The Handball development is moving ahead at a steady pace. There is not much more that I can say right now without going into technical details. We are progressing page by page.
Finally a little announcement regarding the option to offer players for sale which we implemented in December. We would like to warn you that even if you use this feature, the rules apply the same way as for regular transfers. That means that this feature does not allow you to make transfers for excessive prices. It is your responsibility, as the manager who offers a player for sale, to make sure that the requested price is not excessive for a player with such skills and qualities. If the price is judged excessive by the gamemasters, they have the authority to compensate the transfer so that nobody gains an unfair advantage in the game. Please keep that in mind when using this feature.
Have a nice day!
Autor:

vlady
-
Prevodilac:

vlady
Podeijeli na Facebook
Podeijeli na Twitter
Podeijeli na MySpace