More stats, season bonuses and WC bids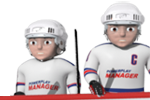 Hello friends,
I hope you entered the new year successfully. I bring you the latest news from PPM hockey.
First of all, a feature that I am sure you will like. More stats on your Player stats page. Until now, you could only see statistics from regular season and playoffs. As of today, you can also study the numbers from placement playoffs (playoff games outside the main draw), relegation/promotion games, National Cup, Champions' League, Cup Winners' Cup and stats of your players in the national team. Of course you can see the stats of the other teams as well, not just your own.
The other big news is that you can pay out season bonuses to your franchise players. Use this feature carefuly, because you cannot change your decision once the bonus has been paid out. The more bonuses you pay out, the bigger the discount the player will give you when he becomes a free agent. Every season bonus saves you 5% on signing bonus. Season bonus equals a 10 day salary of a player. The bonuses are calculated based on the current salary of the player.
You can pay out bonuses for all of the first 6 seasons. You have time until the end of the season. As of season 7, you will be able to pay out bonuses only for the current season. You can pay out a maximum of 4 bonuses per season. Notice that some players don't have bonuses enabled in some of the earlier seasons. That's because they haven't played in your team in that season. You can find more info on free agency and bonuses in the guide.
Today we have also changed the color of the links in the soccer forums from blue to green to make the soccer forum more distinguishable from hockey.
Last but not least, I would like to announce that you can send bids for hosting the PPM Ice Hockey World Championships until January 21. The rules from the previous seasons apply. You can read them here.
Have a nice day!
Autor:

vlady
-
Prevodilac:

vlady
Podeijeli na Facebook
Podeijeli na Twitter
Podeijeli na MySpace