Najnovije vijesti iz tri sporta na PPM-u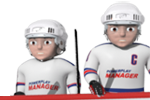 Zdravo drugari,

Danas vam donosim vijesti u vezi tri sporta na PPM-u. Počeću sa hokejom, koji je pred samim početkom 18. Sezone. Kao što možete da vidite, dodali smo opciju, koja vam omogućava da unaprijed pogledate ponude sponzora. Ovu opciju možete koristiti onda kada znate da nećete biti prisutni onlajn u narednih nekoliko dana ili onda kada prosto ne želite da čekate sledeći dan da biste viđeli novu ponudu. Ipak budite oprezni, jer otvaranjem ponuda od narednog dana automatski poništavate tekuće ponude.

Ovo će biti poslednji put da sponzori uzimaju u obzir vaš učinak u Ligi šampiona ili Kupu pobedjnika kupova u hokeju. Od sledeće sezone, ovaj bonus više neće postojati.

Od sledeće sezone u hokeju biće uveden maksimum od 8 članova osoblja po jednom objektu. Ovu promjenu smo najavili još prije nekog vremena, tako da možete da se za nju pripremite. Ako imate više od 8 članova osoblja yapošljenih u nekom od objekata, možete ih zadržati, ali nećete moći da angažujete nove dok ne smanjite njihov broj ispod 8. Takođe, prelazimo na nov model drafta, koji podrazumijeva održavanje drafta dva puta u sezoni.

Pregrupisavanje najniža dva nivoa liga, da bi se odstranili neaktivni timovi i povećala kompetitivnost, odigraće se u svim državama osim u sledećim:

Belorusija, Brazil, Bugarska, Kanada, Hrvatska, Finska, Mađarska, Irska, Ostatak svijeta.


Vijesti iz rukometa:
U živi prenos utakmice smo dodali animacije šuteva lopte ka golu. Ova ideja je prvo upotrijebljena u živom prenosu košarke, a sada smo je dodali i u rukomet. Nadamo se da će to učiniti žive prenose prijatnijim za gledanje.

Vijesti iz košarke:

Pokretanje košarke je prošlo veoma dobro. Suočili smo se samo sa malim brojem bagova, koji su obično ispravljani u roku od 24 časa po prijavljivanju. Veoma cijenimo povratne informacije i prijave bagova, koje dobijamo od vas. Pripremili smo vam malo iznenađenje u okviru izvještaja utakmice: klikom na ikonicu kamere možete pogledati kratku animaciju svakog postignutog pogotka.

To bi bilo sve. Želim vam prijatan vikend!
Autor:

vlady
-
Prevodilac:

Chiraq
Podeijeli na Facebook
Podeijeli na Twitter
Podeijeli na MySpace