Change your team name for special price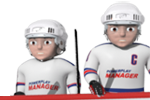 Hello friends,
If you wish to change your team name, you can do so for a 33% discount in the team settings from today until next Tuesday 15.00 CET. If you have made a mistake when creating the team or you have come up with a better name since then, this is your chance to get it right. Remember that you can only change your team name once per season, so make it count.
If you are still hesitating whether to sign up for Pension Tyrol World B-Open, this is your last chance. The tournament starts on December 4 and there are only 11 places left. You can win accommodation for 4 nights in the wonderful Tyrol Alps in a boarding house called Pension Tyrol. You can also win PPM souvenirs such as shirts, T-shirts and caps with your own nickname. The tournament is open for all teams with OTR 200 or less. It is certainly worth a try. If the tournament doesnt get filled until December 3, we will fill the empty slots with inactive teams. Tournament for teams over 200 OTR is already full and scheduled.
We would also like to announce that we are currently concentrating most of our efforts on limiting the server overload issues that usually occur shortly after the end of the live broadcast of hockey games. As you have noticed, the game is sometimes down because the servers are having troubles dealing with so many page loads. We are doing our best to minimize the down-time and make the game run as smoothly as possible. Unfortunately the game has to be turned off when the load reaches critical values in order to avoid bigger problems. This usually takes just a few minutes, so most of the day, the game is going well. Thank you for understanding.
One of the possible solutions is to divide the game times into several time zones like we have in soccer. This, however, is a complicated operation and it might take several weeks or even months of intensive work. Nevertheless, we are going to start working on this soon.
In the meantime we have temporarily disabled the column that displayed whether a player has received any awards in the Players and Market pages in order to save some server capacity. The awards are still visible in the players' profiles of course.
At the beginning of the season we have made a change to OTR gains calculation for league games. Some of you have spotted this.
That's all for today, have a nice day!
Autor:

vlady
-
Prevodilac:

vlady
Podeijeli na Facebook
Podeijeli na Twitter
Podeijeli na MySpace