Migration tonight!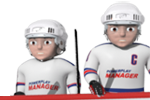 Dear friends,
the announced date of migration has indeed been confirmed. The game will be turned off, and the migration will start, tonight at midnight CET. The test migration went pretty well and only a few minor issues have come up which we have been able to deal with. Therefore we have decided that with the state of preparations, it will be best if we did the migration tonight.
The game will be offline for several hours. We hope we can put it back online morning CET. The exact hour is impossible to predict. We will do our best to be back online as soon as possible.
If you notice some errors or bugs after the migration, please report them in the bug threads. We will be monitoring them. If you are unable to access the game entirely even after it is back online, please contact us at reportsppm@gmail.com.
You can follow the news about migration progress on our facebook page.
Some payment methods on new servers might be disabled at the beginning. We will be enabling them as soon as possible, but if you are running out of credits, you might want to buy some before the migration today.
Have a nice day and see you on new servers!
Autor:

vlady
-
Prevodilac:

vlady
Podeijeli na Facebook
Podeijeli na Twitter
Podeijeli na MySpace