Tweaking the new design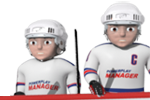 Hi friends,
It's been over a week since the launch of new design and we have spent most of this time tweaking and fixing bugs that you reported. Here is a list of a few things that has been fixed or changed:
fixed the problem with inscriptions on stands
fixed the ice surface paintings which were not fitting to the ice perfectly
fixed the missing icon of suspended player in his profile
when you refresh profile of a player on the market, the page will scroll down automatically for you
fixed display of D and H stands in soccer
fixed problem with inability to sign out of a waitinglist for a sport
other minor bugs and display errors
We have been following the forums of course and reading your comments on the new design. Even when we don't reply to every post, it doesn't mean we don't read it. We have noticed that the main issue that many of you have with the new design is the fact that everything is bigger than it was and you need to scroll a lot more than before. We will try to address that issue by reducing the size of the tables and fonts and maybe removing some unnecessary texts.
Another problem is browsing on your cellphones. In the next few weeks we will make a special login page for cellphones and we will also adjust the other pages to reduce their size in kilobytes.
We have also made a change in soccer that gives the new teams a better starting position in terms of overall rating of their players. This change has been done in hockey several seasons ago and we just transformed that into soccer as well. The reason for that is, that new managers were often becoming too easy prey for the more established teams in the league. We want to give them a fighting chance, not to win immediately, but to survive the beginning without humiliating results. The players they get are without experience and chemistry and their facilities are also at the lowest possible level so the older managers still have an edge over them. After that, it's up to who is the better manager.
There are several other things we plan to do in the near future:
new version of substitutions page in soccer with more options and more user friendly
fan clubs of national teams (credit feature)

back sides of jerseys that will be displayed in player profiles and some other pages (PRO feature)
notifications if someone replies to your forum post
customization of your soccer pitch (credit feature)

changes to motivate managers to stay in higher leagues and get promoted
Have a nice weekend!
Autor:

vlady
-
Prevodilac:

vlady
Podeijeli na Facebook
Podeijeli na Twitter
Podeijeli na MySpace