Nove cijene i informacije o lansiranju rukometa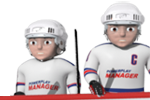 Dragi prijatelji,
od 1. maja 2013, biće nove cijene za kupovinu kredita na PowerPlay Manager-u. Znamo da ovo nikad nije dobra vijest, ali cijene kredita se nisu promjenile unazad 2 godine, dok se druge stvari, kao što je inflacija, porezi i PDV (porez na dodatu vrijednost) su u porastu zadnjih godina kao i troškovi na izradi ovog projekta su porasli srazmjerno sa tim. Međutim, želimo da budemo iskreni sa vama i to je razlog zašto smo najavili promjene cijena unaprijed. To znači da još uvjek imate nekoliko neđelja da iskoristite stare cijene i kupite kredite. Posebno kada znamo da je lansiranje rukometa odmah iza ugla.
Možete da vidite novi cjenovnik za transfere, platnu karticu,paypal i moneybookers ispod:
100 kredita - €13.90
200 kredita - €23.90
350 kredita - €35.90
1400 kredita - €135.90
Broj kredita koji dobijate za paysafecard plaćanja će se promjeniti:
6 kredita - €1
65 kredita - €10
200 kredita - €25
420 kredita - €50
Cijene kredita preko SMS-a se neće promjeniti.
Tu će biti nekih promjena i u PRO paketu od 1. maja 2013. Cijena od 7 dana PRO paketa biće promjenjena na 15 kredita.Dobra vijest je da ćemo dodati opciju Aktiviraj PRO paket za 1 mjesec za 50 kredita. Cijene preostalih PRO paketa se neće promjeniti.
I imam jednu dobru vijest u vezi rukometa. Kao što sam gore rekao, pokretanje rukometa je odmah iza ugla. Prevodioci su već počeli prevođenje tekstova i testeri su počeli testirati igru. Rukomet lansiranje je naš glavni fokus i vjerujemo da možemo pokrenuti Beta u roku od mjesec dana od sada. Još uvjek ima posla, ali ako sve bude u redu, svi ćemo uživati u novoj igri veoma brzo.
Želim vam prijatan dan!
Autor:

vlady
-
Prevodilac:
birdman007
Podeijeli na Facebook
Podeijeli na Twitter
Podeijeli na MySpace