Team stats and a new rule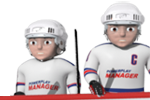 Hello friends,
I will start with the problem that we had last week on Monday. Due to the unusually huge load on the server the statistical calculation had started twice and it had caused some problems. We have worked hard on fixing all these issues including finances and ultimately we have managed to get everything back to normal. This has also prompted us to take precautions and prevent the same thing from happening again. We have changed a few settings and we believe this problem will not occur again. We have also been trying to find out what is causing the unusual server overload around 18.20 CET every league day. The good news is that no damage was done and we have prevented the same thing from happening again.
Things have been moving slower lately because our main developer
Gioel
has been sick and not feeling well at all. He might be out for a longer time. We wish him a speedy recovery.
Now on to the new things. We have added the Team stats page which you can check out under "League - Statistics - Teams". This is a PRO feature and you can find there some very useful stats like number of shot per game, shooting efficiency, special teams or even the overview of tactics used by all teams in the league.
The work on national teams has progressed and it is almost certain that we will be able to launch them at some point next season. We have been adding national team jerseys to the country profiles and we are in a selection process for other countries. The only country that doesn't have a jersey yet is Belarus. If you are willing to lend a hand, you can send your design of the Byelorussian jersey to
DebiK
. Please send it in png format, exactly 254x124 pixels. It has to be the source file before the jersey is cut out, just like the file which you send when you upload your own team jersey.
We have also added one new rule. On game pages, on forums, on chat and in the mail it is forbidden to contact other users requesting credits. This sort of begging for credits has gained too much popularity among some users and we felt like we had to put a stop to this. Moreover, invitations to tournaments via private messages is allowed but please do not overdo it. Sending out a lot of invitations (especially to the same user) may be viewed as spam.
That is all for today. Have a good one.
Autor:

vlady
-
Prevodilac:

vlady
Podeijeli na Facebook
Podeijeli na Twitter
Podeijeli na MySpace