Posebna ponuda - 40% extra kredita besplatno!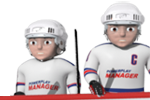 Dragi prijatelji,
da li sa nestrpljenjem očekujete Božić? Mi imamo za vas razlog više da budete uzbuđeni. 40% bonus na bilo koju kupovinu od sada pa sve do 7 decembra u 20:00 časova CET. Da to je 40% extra kredita na bilo koji vid plaćanja i za bilo koju količinu kredita. Potpuno je svejedno ako kupujete kredite putem SMS-a, kreditne kartice, wire transfer ili na bilo koji drugi način. Dobićete svaki put 40% bonusa i možete da koristite ovu opciju neograničeno puta.
To je ponuda kojoj je veoma teško odoljeti. Ne oklijevajte, jer je možete iskoristiti samo u narednih nekoliko dana.
Autor:

vlady
-
Prevodilac:

Chiraq
Podeijeli na Facebook
Podeijeli na Twitter
Podeijeli na MySpace