Buy credits for special price during the Olympics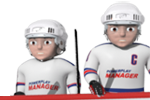 Hello friends,
We have prepared a special offer during the Olympics for you. If you buy credits during the Winter Olympic Games in Vancouver, you will get more than usual. The promotion campaign starts on Friday, February 12, (0.00 CET) and ends on Sunday, February 28 (19.00 CET). The time of payment will be determined by the time when we receive it. So if you are going to use the wire transfer, don't leave it to the last moment.
Here is what we are offering during the Olympics:
For 10 Euro payments - 10% extra credits
For 18 Euro payments - 15% extra credits
For 28 Euro payments - 20% extra credits
For 105 Euro payments - 25% extra credits
If you were hesitating whether to go PRO or not, this is the right time to do it! The SMS payments are excluded from this promotion campaign.
I would also like to remind you that the competition for the country with the most Vancouver 2010 theme ice surfaces is still running. The competition will end on February 28 and the winning country will receive an award into its profile. There will also be an award for the country with most paintings per user. You can find the paintings here:
Enjoy the Olympics and the extra credits!
Autor:

vlady

-
Prevodilac:

vlady

Podeijeli na Facebook
Podeijeli na Twitter
Podeijeli na MySpace