Merry Christmas from PPM office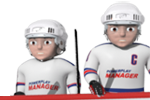 Dear friends,
Christmas has come and we at PPM office would like to wish you all the best! We wish the younger ones a lot of presents and the older ones to enjoy their well earned rest at least for a few days. Enjoy your time with your family and take your mind off the every day stress and troubles.
I would like to draw your attention to a special Christmas interview with one of the founders of PowerPlay Manager, tuttle. You can find the article here. At the end of the article you can find a Christmas competition organized by the Slovak PP Magazine editorial team. The prizes include PPM T-shirt and credits. Don't miss your chance!
Merry Christmas everyone!
Autor:

vlady
-
Prevodilac:

vlady
Podeijeli na Facebook
Podeijeli na Twitter
Podeijeli na MySpace