New commercial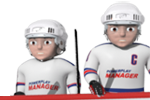 Hello friends,
it is my pleasure to announce that the second of three PowerPlay Manager commercials has been published. Like last time, we will appreciate your efforts in helping us with the promotion of the video by sharing it with your friends or by posting it on your wall on Facebook or other social networks. We hope that you'll like it as much as we do.
The link to share: http://www.youtube.com/watch?v=3A2ml08OCjw&hd=1
We would also like to announce that the PPM Ice Hockey World Championships in season 8 will be held in Slovakia (Top division), Switzerland (Division I) and USA (Division II). Slovakia was the only country to have sent a bid for the Top division. The host countries for lower divisions are the highest ranked countries which haven't hosted any tournament yet. The championships begin on September 24 and the final game is on schedule on October 2. You are all invited to watch the games which will be free of charge as usual. Don't miss it!
Have a nice day!
Autor:

vlady
-
Prevodilac:

vlady
Podeijeli na Facebook
Podeijeli na Twitter
Podeijeli na MySpace