Automatic practice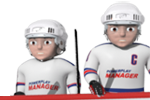 Hello friends,
Is setting up practice of your players is taking too much of your time? Are you bored with constant calculating which attribute should be practiced by your player? In that case I have great news for you. A new PRO feature has been launched today that will solve all your problems with player training. It is called Automatic practice. We thought it was time we did something for the PRO users. Something that would that would save them a lot of time and trouble. I think this feature will do just that.
How does it work? Just open the profile of any of your players and look at the control panel on the right hand side. There is an option to add automatic practice. Click it and you will see empty fields underneath each attribute. Now enter the numbers corresponding to the ratios that you want the player to achieve and then save. For example if you set Defence on 4, Passing on 3, Technique on 2, the player will practice to achieve a 4-3-2 ratio between these 3 attributes. If you don't enter a number for an attribute, the player will not practice this attribute at all.
The player will always practice the attribute that is furthest away from the desired ratio. In the example above a player with attributes 80-60-30 will practice technique until he reaches 40. Then he will practice defence, passing and technique alternately in order to retain the desired ratio. It's that simple. Once you set it, you will never have to worry about the practice of that player.
Now to other news. A new rule has been introduced recently:
It is forbidden to promote a player or a staff member in the chat of another player.
You can find all the rules here.
Hint for today: You can enter prediction pool and live scores quick and easy via Applications that you can see on the right hand side of the home page. You can also add these applications to your favorites by clicking the star icon in the top right corner when you are in the application. It will then appear on your home page and you can get to your favorite application with one click.
Have a nice day!
Autor:

vlady
-
Prevodilac:

vlady
Podeijeli na Facebook
Podeijeli na Twitter
Podeijeli na MySpace