Great Referral Campaign approaches the halfway mark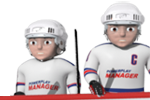 Dear friends,
the Great Referral Campaign that started on June 1 is almost at the halfway mark. If you look at the standings, you can see that still only 20 users have reached the 20 point plateau which is necessary to be in the running for a Nintendo Wii. That means that there is still a great chance to win in the lottery. Remember there are also 10 PPM T-shirts to be won in this lottery. All you have to do is to invite new managers into the game via your referral link.
Now for some development news. As of next season there will be changes regarding the National Cup both in hockey and soccer. The competition will start in the first week of the season in every country. The seeding will be done at the end of this season (before the reduction of OTR) in order to avoid the newly promoted teams to get a jump start. Moreover, league level will be taken as the first criterion for the seeding. That means that the top seeds will come from the top league, then from second leagues and so on. Then these teams will be ordered by their overall team rating.
News from soccer
The new engine testing and development is going on. There are two things that I didn't mention in the previous news. In the new engine the illogical formations will be more heavily penalized. We will not publish any numbers on how you should play, but the general knowledge of the sport of football will be enough for you to know which formations are good and which are not so good. Of course we have left some room to manouver here and you still have plenty of options how to set up your team. Another thing is that you will be able to make substitutions at half-time which is not possible in the current engine.
I should also say that there will be no suspensions in the League Cup for cards because of the shortness of the tournament. However, the cards in the SuperLeague Cup will be counted and the suspensions will apply for this competition like in Champions' League or Cup Winners' Cup. For more information on these competitions, please refer to the guide.
Have a nice weekend!
Autor:

vlady
-
Prevodilac:

vlady
Podeijeli na Facebook
Podeijeli na Twitter
Podeijeli na MySpace