Brand new feature and other news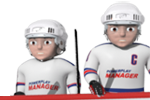 Dear friends,
today we have a whole bunch of good news for you. First of all, I would like to present the newest feature in our game. The option to offer players for sale. If you want to sell a player, but you are worried that he might not be sold for the price you demand, you may offer him for sale for 100 days for any price you set. You can remove this offer at any time or you can change the requested price at any time. As soon as someone sends a bid for such player, the player is placed on the market for 7 days with this bid already in place. You can use this feature for free once every season. The feature will cost 10 credits, but for the first month, we will give you a 50% discount so you will save 5 credits per every use. The list of players for sale can be found if you select "For sale" filter on the Market page.
I am very glad to report that works on the new graphic live broadcast for hockey have taken a huge leap since our last report. The surrounding graphics have been completed, the sounds have been added and the plays themselves are being tuned up. We have prepared for you a model game that you can watch here. We recommend to watch it with sound on.
I am sure you would like to know when you will be able to watch your own games like this. We still need some time to go through all the plays and to tune them to get rid of weird bounces, offsides and similar issues. It is our goal to make the plays look as natural and realistic as possible. We hope to launch the new live broadcast as one of the first things next year.
Now to other news. In soccer we are currently working on the U20 and U17 national teams. The plan is to launch them next season. The U20 and U17 national teams will have World Cup every odd numbered season. The qualification for World Cups will have the same model as for the senior national teams.
A minor improvement impletemented last week in soccer is that goals per match average in the players stats is now shown with two decimal spots instead of one. Last week we also added a new page that shows the latest national team scores as well as upcoming matches.
We have also removed the cap on starting price of players and staff members. It was set at 100 million to avoid clubs going bankrupt due to high fees in case there are no bidders. Instead of a cap on starting price, we have set a cap of 5 million on the fee that is paid in case the player or the staff member is not sold.
At the end of November, PowerPlay Manager took part in a digital and lifestyle exposition called NextGen Expo 2012 in Bratislava for the second straight year. This year, we not only presented PPM, but also Tennis Duel and Racing Duel. You can find all the pictures from the Expo on Facebook.
That's all, have a nice day!
Autor:

vlady
-
Prevodilac:

vlady
Podeijeli na Facebook
Podeijeli na Twitter
Podeijeli na MySpace