New hockey live launched!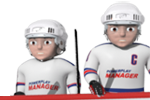 Hi guys,
we are proud to present the new animated hockey live broadcast. The development of this live broadcast was one of the most difficult and lengthy projects we have ever attempted. It took us over a year to get it all done. First we had to create a system in which the plays would be coded. This has been finished quite a long time ago, but since then many modifcations were added to the system to make it easier to code the plays and therefore to speed up the whole process. Then we had to draw every play one by one on paper and then code them. This was extremely time consuming and several programmers have come and gone who were only coding the plays and nothing else. Finally we had to put all this together so that you could watch your games in this new engine.
Please consider this as some sort of a beta version. Even though we have done our best to give you the best product that we could, it is possible that you may encounter some bugs. If you do, please do not hesitate to report them in the designated threads on the forum.
The new hockey live broadcast also brings a new PRO feature. When you watch a league game, you can follow the live scores from other league games.
In case you like the old version of live broadcast, you can still watch that. There is a link at the bottom that will switch you over to the text version.
You can find another new feature on the Statistics page of your team. There you can now view stats of players accumulated from all competitions (league, National Cup, international cups, etc). Just select Total from the select box and you will see all stats added together.
The team profiles of national team managers and their assistants now contain info about which national team they manage as well as a direct link to this national team. This also serves as a shortcut for all national team managers to the team that they manage. I am sure it will be appreciated especially by those who manage foreign national teams.
We have also added the option to scroll through goalkeeper masks and gloves in the national team profile.
On Christmas Eve we published an interview in the magazine with tuttle. Within that interview there was a competion with T-shirt and credits. The winners of the competition and their contributions have been published in the magazine.
We have added a lot of new things to our to-do list. The items on this list are all planned for this year. There will be some new useful PRO features, such as the notepad and the reminders, and of course the main project of the year is handball.
That's all, have a nice day!
Autor:

vlady

-
Prevodilac:

vlady

Podeijeli na Facebook
Podeijeli na Twitter
Podeijeli na MySpace