Time running out on discounts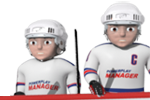 Dear friends,
we would like to remind you that the discounts on PRO packs in soccer expire on September 14 at 14.00 CET. If you plan to buy your credits via wire transfer do not leave it until the last moment. Wire transfers take a few days to process so you should really hurry if you want to have the credits in time. There are, of course, faster ways to pay as well. You can find all available payment options here. Here follows the overview of discounts:
3 month soccer PRO pack - 10% discount, you save 10 credits
6 month soccer PRO pack - 20% discount, you save 36 credits
12 month soccer PRO pack - 30% discount, you save 96 credits
12 month hockey+soccer PRO pack - 50% discount on 1 sport, you save 160 credits
If you have enough credits, you can activate your PRO pack here.
The recently launched advertising system in hockey now allows you to advertise tournaments as well. This may come very handy if you need to fill up your tournament. Just open the tournament profile and click on the link Advertise tournament. You can't miss it. We will keep adding things that you will be able to advertise and we are also working on implementing the same system in soccer.
Finally, I would like to return to the tragic events from Wednesday that shook the whole hockey community. The plane with the whole Lokomotiv Yaroslavl KHL team crashed shortly after start killing all but one of the Lokomotiv team players along with the whole coaching staff and other team personnel. Some great hockey players left us and they will never again entertain fans in the arenas. But most tragic of all is the loss that their families and friends now have to go through. Our deepest condolences go to all the wives, children, brothers, sisters, mothers and fathers of the victims.
Autor:

vlady
-
Prevodilac:

vlady
Podeijeli na Facebook
Podeijeli na Twitter
Podeijeli na MySpace